Stuck inside at the moment? Why not catch up on our podcast partnership series!
IBA have partnered with the Black Magic Woman Podcast to bring you a series of episodes that will be based on a variety of topics including housing, business, youth, women, investing, financial literacy, economic development and COVID-19 recovery.
So far Black Magic Woman host Mundanara Bayles has had deadly yarns with Kantesha Takai, Isaac Harrison, Simon Thornalley and Lynda Maybanks on their personal stories, home ownership, business, visions for the future, NAIDOC and more.
We'll be releasing a new episode each month, so keep an eye out on our socials for the next one!
Rodney Rankins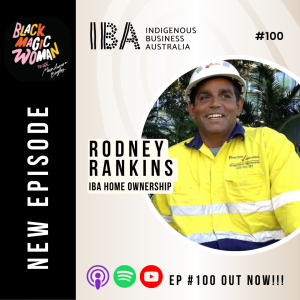 In episode #100 of the Black Magic Woman podcast, Mundarra yarns with Ro
When Rodney talks about home ownership, his eyes light up with pride. He became the 19,000th home loan that IBA approved for Aboriginal and Torres Strait Islander people since inception.
For Rodney, home ownership was always a dream and he encourages others to put the work in to finding your goals.
James Morgan
In episode #92 of the Black Magic Woman podcast, Mundanara yarns with local Bininj man James Morgan about family, country and his for-purpose tourism business that serves community and customers.
James is passionate about protecting sacred sites within Kakadu National Park and creating more career opportunities for his family.
The first vodcast in the IBA series, James dials in from scenic Kakadu, surrounded by the squarks and murmurs of local wildlife. He shares with us the value in slowing things down.
James has had many touchpoints with IBA throughout his business journey. From participating in a start-up workshop, to finding out about Futures Forum and then going to complete the IBA Accelerator program before securing a loan to help purchase a vehicle to support his tourism business. Listen here now 
Caitlin Hicks
On episode 80 of the Black Magic Woman Podcast, Mundanara yarns with Caitlin Hicks, from Hicks Civil and Mining, a 100% Aboriginal owned civil and earthworks business operating in the Pilbara region of Western Australia.
Hicks Civil and Mining was established in 2010 by Caitlin's father, Peter Hicks, a Ngarluma man who has a long-standing career in the civil construction and mining industry. Backed by the experience and support of Lisa Hicks (wife), Keryn Kalzee and Caitlin Hicks (daughters), Hicks Civil and Mining has positioned itself as a reputable Aboriginal family business.
Caitlin commenced work with Ngarda Civil and Mining at the age of sixteen and later worked inside BHP's Rail and Community departments. All roads would then lead to the family business, where she took on office-based management roles with her mother, Lisa.
Hicks Civil and Mining began as a small equipment hire business and has now developed its capabilities to service both minor and major works contracts, increased fleet size and positioned the business to be stand alone and fully self-funded within nine years of operation.
Together the Hicks family have (a combined) 40 years of experience, are highly respected within the industry and wider communities and maintain an excellent safety record on all projects.
Caitlin's shares her insight and experiences with IBA, specifically their invoice finance product. We share stories and commonalities as working mothers and learn all there is to know about Hicks Civil & Mining, the journey and success stories, both independently and with the help of IBA. Listen to the episode. 
Liandra Gaykamangu
In episode 82 of the Black Magic Woman podcast episode, Mundanara yarns with the amazing Liandra Gaykamangu. Liandra is a Yolŋu woman from North-East Arnhem Land and the Founder and Creative Director of Liandra Swim, an eco-conscious designer swimwear label that fuses contemporary Aboriginal art and swimwear fashion.
Liandra Swim allows people, from all walks of life, to authentically engage and connect with Australian Indigenous culture in a new and exciting environment. Only four years old, Liandra Swim has already been featured in Vogue US, Elle Italy, Harper's Bazaar and Marie Claire and it was also recently showcased at the 2021 Australian Afterpay Fashion Week.
In 2020, Liandra moved back home to Arnhem Land and is scaling her business from remote community Milingimbi. While this can sometimes be challenging, she is enjoying a life full of family, language, tradition, and culture and proving that you don't need to live in a big city to be a success.
Liandra is also the co-CEO and a Board Director of Enterprise Learning Projects; a not-for-profit organisation that is 100% Indigenous controlled. Through her role at Enterprise Learning Projects, Liandra supports the growth of remote Indigenous entrepreneurship, stretching from north Queensland and throughout the Northern Territory.
Liandra is also a qualified English/History high school teacher and has seven years' experience in the education industry, with teaching stints in metro New South Wales and remote Northern Territory. She is passionate about education and strongly believes knowledge is power.
On a personal level, we yarn about family and the important role models in her life who set the foundations for her to create and operate a successful business. We of course yarn about IBA, her affiliation with the Strong Women, Strong Business program and why it's so important for First Nations women to support each other in their business journeys. We find out how the IBA Accelerator Program helped Liandra to take Liandra Swim to the next level and so much more! Listen to the episode
Adam & Carmel Wooding – Empower Digital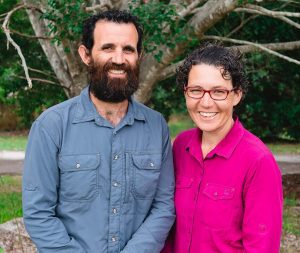 Adam, a proud Yorta Yorta man, along with his wife Carmel love seeing their clients succeed and are honoured to walk with small businesses, seeing them grow and thrive online. The husband and wife duo are passionate advocates for small business, offering digital training and support services Australia-wide.
This episode is a yarn about their affiliation with IBA and what learnings Adam and Carmel have implemented into their business and what impacts they are having. If you're looking to develop your business ideas and are not sure where to start? This episode is for you! A deadly yarn with a tonne of insight into what IBA can offer you.
"One of the key learnings for us is the fact that your business evolves…and that's okay. That learning from the business Accelerator program has really set us up because once COVID hit our business had to adapt to that, and so we were in a much better position to go 'you know what it's not the end of the world we can change direction, we can change what we need to do and how we do it and we'll be okay'." - Empower Digital
Kantesha Takai – Lola Digital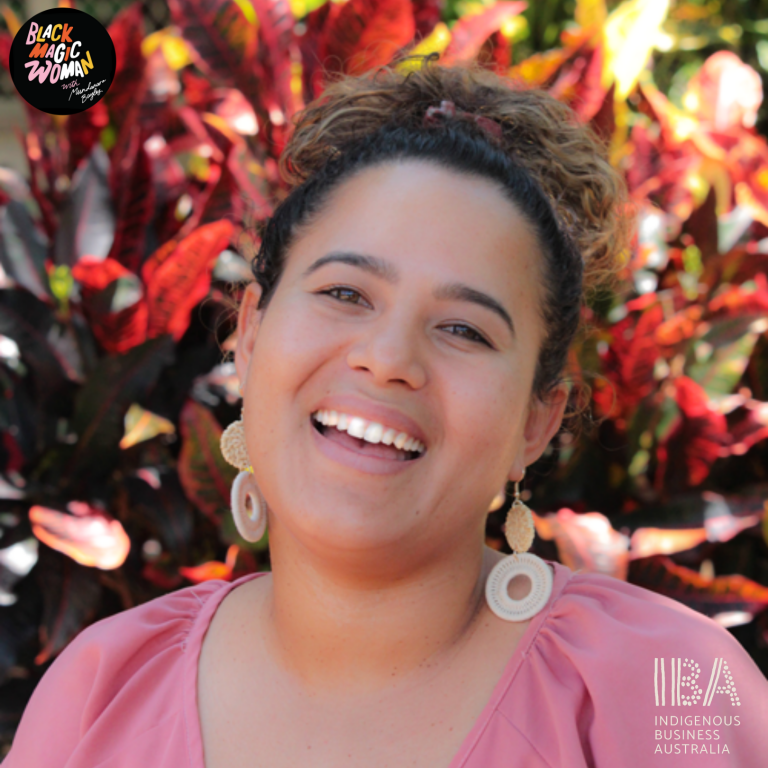 Kantesha is from the Torres Strait and is the heart and soul behind Lola Digital; a boutique creative and content agency based on Thursday Island in the Torres Strait, that provides tailored marketing strategies and support to government, corporations, NGO's and small business.
Kantesha shares her experiences with IBA from buying her first home, to how IBA supported her through her business journey. We also yarn about her experiences and learnings from the IBA programs Kantesha participated in and how it inspired her to create economic development opportunities in her community. An amazing yarn to kick off the IBA and Black Magic Woman Podcast partnership series!
"I grew up on an island without any electricity or running water. To do my assignments at night, it was either get it done before the genny goes off or do it by using a torch. If I can do it, anybody can!" - Kantesha Takai, Lola Digital
Simon Thornalley – Saltwater Eco Tours
Simon is from the Torres Strait and is the founder/operator of Saltwater Eco Tours, a sailing tours business operating on the waters of the Mooloolah river on the Sunshine Coast.
Launched in 2020, Saltwater eco tours is a unique and authentic experience on board a historical timber sailing vessel, in the traditional waters of the Kabi Kabi/Gubbi Gubbi people.
Simon was introduced to his sailing lifestyle at a young age by his parents who were world class sailors and environmentalists themselves. He used his knowledge and passion to create a vision that was to establish an eco-tourism sailing experience that would inspire a deeper connection to Indigenous culture and the ocean.
Simon yarns about his business journey so far and the support IBA have provided him along the way. A deadly yarn! A must listen for mob thinking of starting in business. A truly great insight into what IBA can offer you in terms of business support.
"IBA supported us the whole way through the development procedure and the outcome was, we got a start up finance package with IBA." - Simon Thornalley, Saltwater Eco Tours Listen to the episode..
Isaac Harrison - Entrepreneur 
Mundanara yarns with Kabi Kabi and Birri man, Isaac Harrison about his 50 year vision for the Indigenous business sector.
Isaac is an Indigenous entrepreneur with a background in renewables and marketing. Since founding and successfully exiting Bunjil Energy in Melbourne, he now resides on his Grandfathers land here on Kabi Kabi/Gubbi Gubbi Country, QLD.
Isaac now spends his time consulting to other businesses and occasionally dropping an episode here and there on his podcast Deadly Discussions. In addition to this, Isaac plays Yidaki for a house band called Rivertribe. You can find the podcast and the band on Spotify.
With business interests all up the East Coast, Isaac is always on the move. When not busy working, he spends his time with his wife, and two children and their pugalier. Isaac tells us about his experience attending the inaugural IBA Futures Forum and his 50 year vision for the Indigenous business sector.
"COVID has caused the first real recession for the Indigenous business sector. But I think we've gone through so many trials and tribulations – we got this!" – Isaac Harrison
Lynda Maybanks - Wirrinyah Conservation Services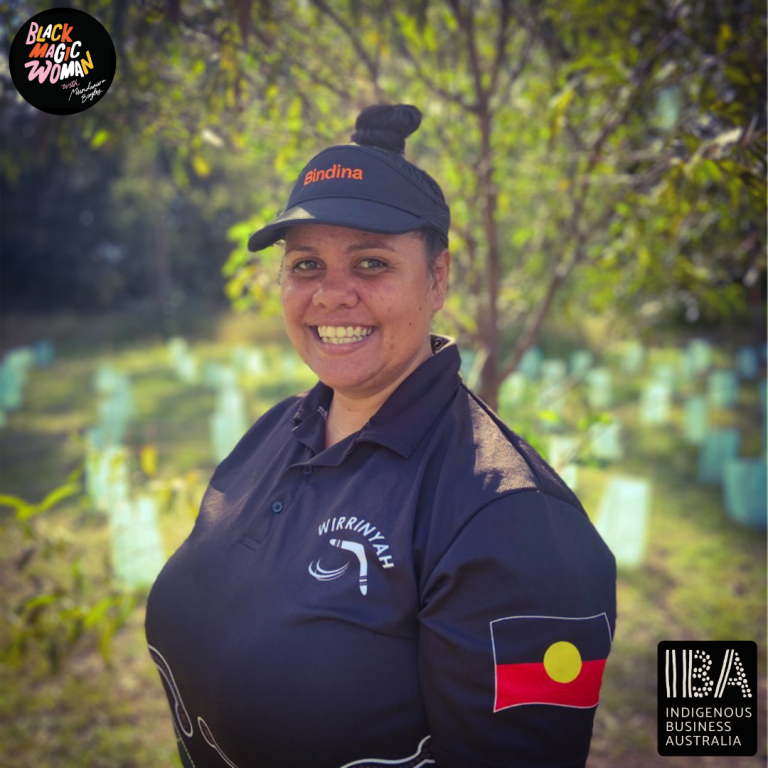 On episode 67 of the podcast, Mundanara yarns with her fourth guest of the IBA partnership series - proud Yugara woman Lynda Maybanks, from Ipswich.
Lynda is passionate about improving social outcomes for Aboriginal and Torres Strait Islander people through reviving Yugara culture and restoring Yugara country with her business, Wirrinyah Conservation Services.
"Wirrinyah" means coming back in Yugara language. It represents the ongoing revival of Yugara ways of caring for country. Wirrinyah focuses on working with businesses, Government and landowners in Southeast Queensland to restore our natural areas, conserve our native species and protect
Aboriginal cultural heritage sites for the enjoyment of all Australians.
We find out how Wirrinyah Conservation Services came about, what role IBA played in that and how IBA supported Lynda on her business journey. A really good listen that ties in perfectly with the 2021 NAIDOC theme 'Heal Country'.
"It wasn't until I went on the IBA Futures Forum [that] I realised what the possibilities could be. I never really thought about business ownership as an option in my career." 
"Heal Country to me means, reconnecting with Mother Earth, reconnecting with culture, reconnecting with your ancestors. I'm a big believer that if Country is well then your people are well. It is important for you to just go out and be on Country and be where you feel like you can belong and where you can feel like you can contribute to a healthier world and a healthier future for our next generation." - Lynda Maybanks, Wirrinyah Conservation Services
A very inspirational yarn you don't want to miss! Listen to the episode.
 Lauren Jarrett and Melissa Greenwood - Miimi & Jiinda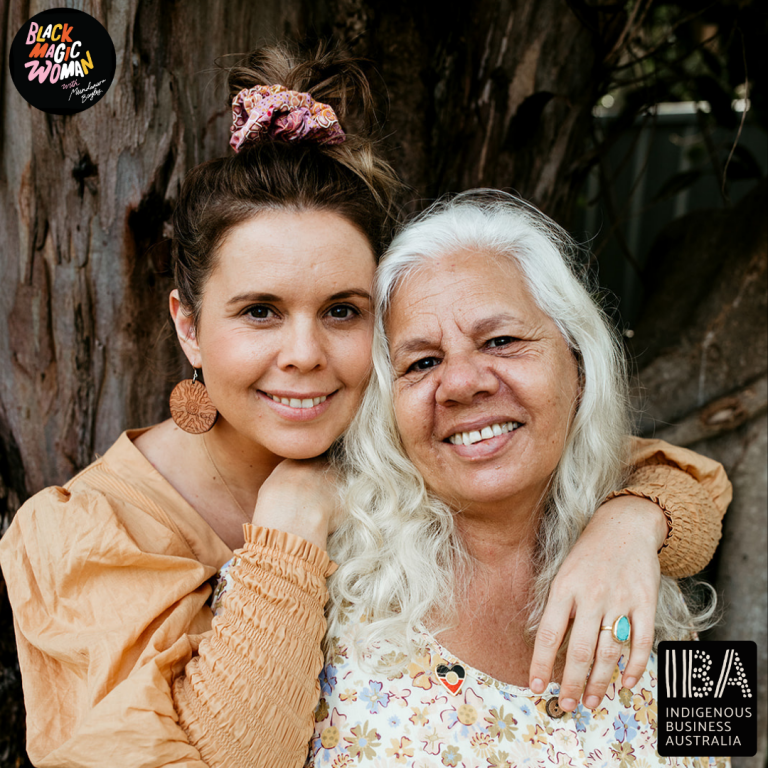 On episode 69 of the podcast Mundanara has the pleasure of yarning with mother and daughter duo, Lauren Jarrett and Melissa Greenwood. Melissa and Lauren hail from the Gumbaynggirr, Dunghutti, and Bundjalung tribes of Australia's East Coast and are the founders of the Australian art business Miimi & Jiinda.
Miimi & Jiinda's aim is to create beautiful, unique artworks that connect with the world. They are passionate about painting pieces that reflect their own personal stories and unique journeys as Indigenous women. Their creations endeavour to uplift and inspire our senses, spark conversations, and bring light to important issues. For both mother and daughter, their art has been a powerful medium for healing intergenerational trauma.
As proud Gumbaynggirr custodians, Lauren and Melissa love to share their interpretations of Country, which spring from their own personal cultural identities as Aboriginal women. During our amazing yarn, we find out how the IBA Accelerator program helped take Miimi & Jiinda to the next level and some of their valuable takeaways of completing the program. A great insight to their business and personal lives.
"Believe in yourself, stay authentic and follow your passion!" - Aunty Lauren Jarret, Miimi & Jiinda