The Chief Executive Officer of IBA oversees the day-to-day administration of the organisation and is supported by the Executive Management team.
Kia Dowell
Executive Director, Strategy and Innovation (currently on leave)
Kia is a Gija woman from Warmun Community (Turkey Creek) in the East Kimberley of Western Australia. Her traditional Aboriginal name is Wadjbarreyal and her skin name is Nangala. She joined IBA in October 2017 from Codeswitch, an Indigenous strategic advisory and consulting firm she co-founded. Kia is passionate about working to support the growth of profitable and sustainable organisations that serve a greater social purpose for Aboriginal communities. She holds her MBA in International Business, Bachelor of Business Administration in Business Management.

As head of Strategy and Innovation, Kia oversees the development, implementation and performance of IBA's strategic plan, market research and insights, impact measurement and evaluation, thought leadership and advocacy and strategic partnerships.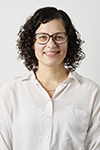 Shanti Rama
General Counsel, Legal Services
Shanti joined IBA in 2015, and has more than 15 years of experience as a commercial lawyer with roles in both private practice and in-house. She has practiced in the Northern Territory and New South Wales on a diverse range of significant transactions and major projects for clients including Aboriginal groups, statutory entities, and listed and private companies. Before moving to IBA, Shanti worked at the Northern Land Council, based in Darwin. Shanti has degrees in law and medical science and is a graduate of the Australian Institute of Company Directors. She has a strong determination to achieve outcomes for Aboriginal and Torres Strait Islander peoples.

As the head of Legal Services, Shanti is responsible for providing legal support and services to IBA, and plays a key role in overseeing IBA's governance.