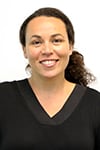 Jade is a Wiradjuri and Bundjalung woman and Acting Executive Director Business Services.

What is your role at IBA?
I am currently acting in the Executive Director Business Services role and oversee IBA's HR, IT, property, travel and procurement. My team ensures the IBA workforce is equipped to undertake their roles.
Describe what made you want to work for IBA and how working there makes you feel.
I commenced my career as an Indigenous cadet and have worked in Federal Government for over 15 years. I applied to work for IBA as I wanted to work for an organisation whose values aligned closely to mine, where I could see direct benefits to my community and where I could work with colleagues who share my passion for enhancing the lives of Aboriginal and Torres Strait Islander people.
Every day I am excited by the success of IBA's customers and am inspired by the dedication of our workforce. I feel very privileged to be able to practice my profession in IBA.
How long have been at IBA and how has your role has changed?
I've been at IBA for close to nine years and am so grateful for the opportunities to develop and learn whilst at the same time growing my family.
I started at IBA as our Manager of Performance and Development and was promoted to Senior Manager People Performance and Culture in 2017 and am currently acting for a few months as part of IBA Executive. My primary focus at IBA has been to support IBA achieve its Deadly People goal through providing people strategies and operational support.
Describe one of your teams greatest achievements at IBA
I am most proud of our Indigenous employment outcomes, the percentage of Indigenous staff members has grown from 23 to more than 30 per cent during my time at IBA. It's also amazing to see the personal and professional growth of individuals in our organisation.