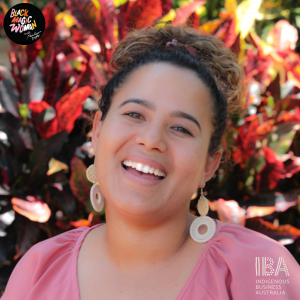 IBA are excited to announce that we've partnered with the Black Magic Woman Podcast to bring you a series of episodes that will be based on a variety of topics including housing, business, youth, women, investing, financial literacy, economic development and COVID-19 recovery.
In the first episode of the partnership series, Black Magic Woman's host Mundanara Bayles sits down to yarn with IBA customer Kantesha Takai.
Kantesha is from the Torres Strait and is the heart and soul behind Lola Digital; a boutique creative and content agency based on Thursday Island in the Torres Strait, that provides tailored marketing strategies and support to government, corporations, NGO's and small business.
Kantesha shares her experiences with IBA from buying her first home, to how IBA supported her through her business journey. We also yarn about her experiences and learnings from the IBA programs Kantesha participated in and how it inspired her to create economic development opportunities in her community. An amazing yarn to kick off the IBA and Black Magic Woman Podcast partnership series!
"I grew up on an island without any electricity or running water. To do my assignments at night, it was either get it done before the genny goes off or do it by using a torch. If I can do it, anybody can!" 
- Kantesha Takai, Lola Digital
Listen to the episode here.