Have you seen our new 'Feel Good Friday' campaign on Facebook?
We're thrilled to celebrate the success stories of our valued customers who are proud to share their special kodak moments with IBA – and thanks to all our fab staff that make these happy customers!
We are committed to fostering a culture of celebration, and that includes acknowledging the accomplishments of our customers. By sharing their success on our platforms, we hope to motivate and inspire others to do the same for their families, create generational wealth, and take that next step towards financial freedom.

Be patient, don't give up and if you put your mind to it, you can do anything. As a mum raising three kids I hope that this is their forever home.
- Sharna
I would like to say a big thank you for helping me with getting all my paperwork sorted for my house. I had such a great time today having the joy of getting a pic next to the sold sign.
- Dee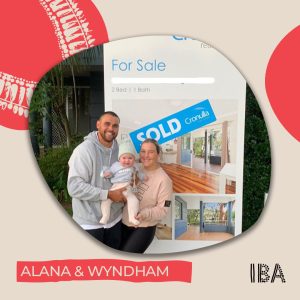 I just want to say thank you so much for all of your help during this process! We couldn't have done any of this without your guidance and advice.
- Alana and Wyndham
If you're an IBA home loan customer and would like to share your pics and be a part of this campaign, please let us know at iba.corporate@iba.gov.au.
Don't forget to follow us on Facebook, LinkedIn and Instagram.