While many have been locked down in isolation from COVID-19, one project is in full drive. The construction of two state-of-the-art commercial satellite ground stations has been underway in Alice Springs over the past couple months. The facility is the first development of its kind on Aboriginal owned land and transforms Australia's capability in earth observation.
Alice Springs is an optimal environment for this type of technology due to the large number of days that are cloud-free, limited radio interference, and access to fibre network on the grounds. Once complete, the facility will assist to bring high resolution earth observation imagery down from hours or days to just minutes. The site is so perfectly located that it will be able to downlink imagery across the whole of Australia's land and waters.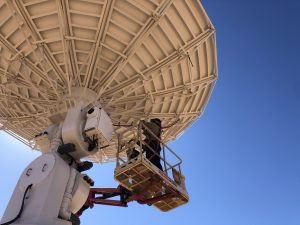 The result will be to significantly enhance Australia's capability in terms of disaster management (such as cyclones and bushfires), environmental monitoring, border protection and search and rescue, as well as strategic uses such as monitoring the economic impacts of pandemics like COVID-19 from space. Indigenous ranger groups, who look after large areas of Australia's land and seas, stand to gain significant benefits from this new technology.
IBA provided the funding to construct the ground stations which were built by an Indigenous company, the Centre for Appropriate Technology (CfAT), and are owned by CfAT's subsidiary CfAT Satellite Enterprises (CfATSE). The facility forms part of a global network of ground stations operated by Viasat Inc called Real Time Earth.
Economic and social returns to Indigenous people are the long-term plan – which is already being realised. The project management and engineering services were provided by CfAT's subsidiary Ekistica Ltd, a 100% Aboriginal owned local NT company. The concrete works were undertaken by 100% Aboriginal owned local NT company Ingerreke Commercial. The development has directly provided employment opportunities for local Aboriginal workers, as well as involvement in the assembly of the antenna with significant skills transfer to local Aboriginal workers.
The commercial arrangement will bring financial returns to CfAT, delivering on one of their key strategic goals to monetarise their land assets and to re-invest in their business by assisting Aboriginal people in remote communities with technology and infrastructure solutions. CfAT have also been awarded the facilities maintenance contract by Viasat, which will generate on-going Indigenous employment and training opportunities.
You can catch up on the build via our Facebook page or watch out for the formal launch. Find out more about CfAT on the CfAT website.