Check out the second installment of the new vodcast series that we're partnering on with Black Magic Woman! In this episode, host Mundanara Bayles yarns with educator and community leader Tanyah Nasir on beautiful Larrakia country.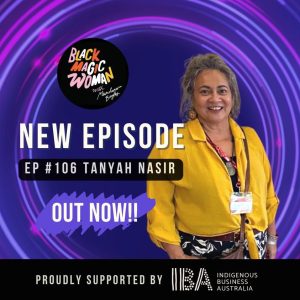 Black Magic Woman explores issues of importance to First Nations people and communities. and we've partnered on a number of episodes with topics from housing, business, youth, women, investing, financial literacy, economic development and COVID-19 recovery.
Episode 106 features Tanyah Nasir, a Darwin woman with connections to the Garrawa, Djugun, and Tiwi language groups. Tanyah is an educator with over 25 years' experience, and prides herself on understanding the approach and methodology required to achieve success as Indigenous people.
Her program - 'Rise Up' provides a unique opportunity for First Nations people to reflect on their distinctive lived reality and the issues they encounter on a daily basis. The Rise Up program also facilitates critical thinking and self-reflection to encourage and support personal change and social transformation to create the life they want.
Black Magic Woman is accessible on all major platforms including YouTube, Instagram, Apple Podcasts, Spotify, Twitter, LinkedIn, and Facebook.